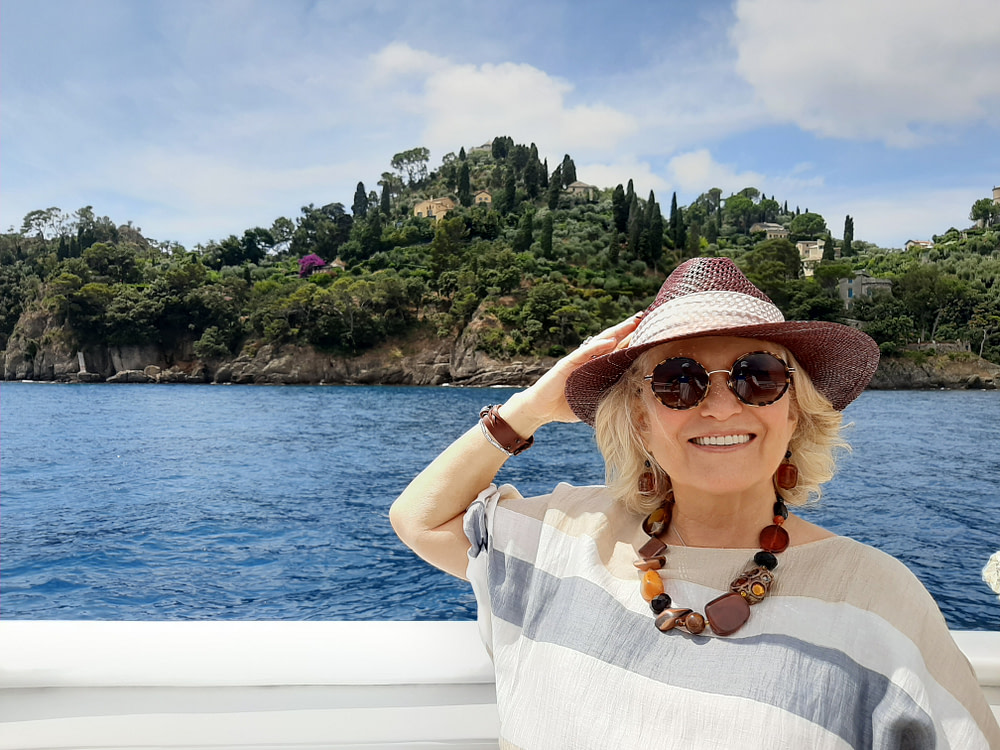 Let me share with you today a short story that got me traveling along my timeline.
"I just received 137 thousands Euros inheritance from my mother!" a friendly neighbor, married middle-age woman who was somewhat struggling financially, shared with us during dinner at our villa.

"This is wonderful!" I commented. "Are you're going to invest this money?"
"YES!", she said proudly, "we're buying a sailboat!"

I smiled and kept my opinion to myself… After all, she is my neighbor, not my client… and this is her CHOICE and I respect it.

But this conversation got me thinking… and do a bit of time travel to my own past….

I've NEVER received a penny from my parents once I left their home at 17 (besides providing half of my living expenses during my study at the University). From my recollection, they were living paycheck to paycheck and had no savings…. So, I always felt that I've got to make my life work without their help.

And I never looked for marrying a wealthy guy who would "provide for me". Just don't believe in making decisions from wrong intentions. 

And here I am, a self-made millionaire.  Financially independent and living in two most desirable resort-like locations in France and the US. 

WHAAAT? How did I, a girl from Lithuania, manage to create such extraordinary life I enjoy now?  

Do you want to know my "secret'? Going from failure to failure, having faith, and keeping my vision alive through all the challenges (immigration, sicknesses, divorce, depression, financial ruins, failed businesses and partnerships, painful disappointments, and personal losses). 

There were times when things looked so bleak and painful that I didn't feel like I had enough strength to continue….. On those days, getting out of bed and making breakfast was a big win.

But then I would ALLOW myself to just BE, letting go of ANY expectations for my life, and just put "one foot in front of the other" the best I could.

That was the time when I FINALLY realized that I AM MY MOST VALUABLE ASSET. 

I also realized that I needed help. 

Help with my mind-freak that kept me in "I wasn't meant to be wealthy, happy, successful" mind jail. 
Help with financial education (because I lost so much money by "trying to invest"). 
Help with having a supportive community (my family, sadly, was not part of it).

First, I found the right mentor for me (by chance), who believed in me (especially, on those days when I did not).
Then I invested in the trainings that helped me make informed powerful decisions (personal growth courses, investment programs, yoga and meditation trainings). 

That's when I slowly started coming back to the confident, compassionate, and daring Millen. The woman who had EVERYTHING INSIDE HER to be wealthy, happy and successful.

Now, do you see WHY I believe that it is possible for YOU too?

Do you see why I'm passionate about empowering women so they too could live their dream lives?

If I could rise back from the darkness of my experiences, what possibly could stop YOU from living your life on your terms?

It's true that I could just "retire" and enjoy the FREEDOM lifestyle I CREATED. 

But knowing the "secret" and keeping it to myself wouldn't feel good to me. 

So, here I'm, sitting in my office in the villa Sunset in Provence, France, writing to you this post to INSPIRE and MOTIVATE you to keep going, keep creating YOUR dreams. 

ONE STEP AT A TIME. In spite of your current financial situation. In spite of your doubts. In spite ANYTHING that happened in the past.


To your Health, Wealth, and Freedom!


P.S.FACT: most people think that Financial Independence is just a pipedream.
But there is a REALISTIC path to Financial Independence, without winning a lottery or killing yourself at work! Let me help you map out your unique fastest path to Financial Independence.
Take me up on this risk-free offer – schedule your "Never Worry About Money Again" consultation now.