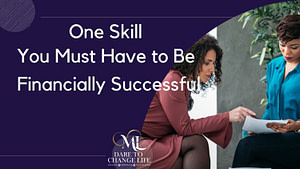 Most people think that if they only had a lot of money, they will feel financially secure…
NOT TRUE!
HAVING money doesn't mean you know what to DO with it.
MANY high-income earners live paycheck-to-paycheck and are NOT financially free.
During my complimentary money strategies sessions, I speak with a lot of women from all walks of life. And MANY successful high-income earners…live paycheck-to-paycheck and are not financially free!!
And that's not all.
While over 63% of Americans are currently living paycheck-to-paycheck, many are now worried about safety of their money at the banks!
NOW, more than EVER before, you've got to be financially savvy, so that you can make better financial decisions.
We all wear many hats in life – parents' hat, spouse hat, employee or entrepreneur hat, and… money manager hat – your money manager.
Each "hat" you wear requires certain skillsets – like communication skills, parenting skills, specialized skills in your area of expertise as an employee or entrepreneur…
Some skills are "nice to have" and some skills are necessary.
And there is ONE particular skill that everyone – regardless of your education, type of work, your upbringing or your natural talents – must have to be financially successful.
This skill is… Savvy money management.
And since it's such a foundational skill, it's outrageous that it's not taught at schools and colleges…
You've got to be financially savvy!!
You must know your numbers – what's coming in and what's coming out.
You must have a healthy relationship with your money.
Yep, you've got to know how to be intentional with your money – how to manage it, how to grow it and how to protect it.
Whether you manage your retirement funds yourself (like I do) or outsource it to financial advisers, you've got to be an informed consumer!
Money is like a game and, sadly, many people lose it before they even start….
Financial ignorance is very expensive.
Everybody wants to be financially free, yet most people don't know HOW to WIN the Money game OR don't believe it's possible for THEM to be financially free… so, they don't even start!!…
And that's where I come in…
When I work with clients, I use the MILLENaire Method – my holistic system for becoming financially independent.
This method addresses 4 areas of life that influence financial success the most: money mindset, money management, money investing, and… spirituality.
This is the exact method that I used in my life to become financially independent in 7 years….
Financial Freedom doesn't happen by accident.
You must have a clear intention, commitment and a plan.
I was the least likely person to become financially free… was divorced, depressed, and broke… yet now I'm financially free for over 13 years and own homes in South Florida and in the South of France.
And I can help you become financially savvy and grow your money with less stress and less risk, so that you too create your best rich life and never have to worry about money again.
Message me privately if becoming financially independent is one of your "non-negotiable" goals.
To your Health, wealth and Freedom!