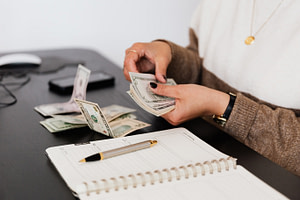 You don't need me to tell you about the inflation challenges in the U.S. and around the globe.
And while our economic leaders at the Federal Reserve insisted that inflation would be transitory and now are telling us that the official inflation is 8.6% in the U.S., the rest of us who live in the real world know that on most important items – food and fuel – it is 40% or even higher!
Sometimes people have to choose whether to buy groceries or save the money to fill the tank to drive to work…
So, the fed is determined to "fight the inflation" but the timing couldn't be worse!
Last week, for the first time in 28 years, Fed hiked interest rates by .75 points. And that's in addition to the half-point hike in May!
Investors want to believe that the Fed has a handle on inflation and will do whatever is needed to bring that level back toward 2% or 3% from its current level of 8.6%.
If you ask me, I think it's highly unlikely. And the tricky part here that the Fed is rising rates when the economy is NOT "overheated", which historically were the times the interests were raised.
And we're in a midst of a vicious "bear" across all financial markets (stocks, bonds and cryptos)… And the Fed hasn't raised rates during the bear market for more than 42 years!
As you probably noticed, I am NOT very optimistic about the economic and market outlook in the next few months… In fact, I believe we're on the hill of the economic downturn (aka recession).
I'm not sharing this with you today to scare you but to PREPARE you to NOT listen to the money coaches / managers who suggest you "to buy stocks on the dips."
Right now, nobody knows how deep we'll have to dive before it gets better…and you "don't want to catch the falling knife" as Wall Street traders like to say regarding buying stocks in a strong down trend.
I'm not a licensed financial adviser and cannot give you any personalized investing advice BUT I can share with you the answers to the questions I was recently asked…
Questions I was asked:
 What do you do to protect your savings in this unprecedented economic environment?
 What do you invest in right now?
My Answers:
 Maximum caution approach
 I stick to U.S. dollars and physical gold right now, and stay away from investing in stocks and cryptos for now
 I continue investing in myself because I believe that I am the most valuable asset I'll ever have and that I receive high ROI on these kind of investments
So, this is a time to REALLY address all the problems that cause money problems, so that you won't spend the rest of your life feeling that your money situation is out of control, worrying about not having enough money to retire once you hit your retirement age, or feeling anxious about being dependent on your spouse or children.
It pains me to see how much (often subconscious) fear people have around money… how it affects every area of their lives.
And since I KNOW that money worries are optional, I put together the simple steps to Amplify Your Wealth, Manage Risk, and Create YOUR FINANCIAL FREEDOM in my FREE BEGINNER INVESTOR TOOLKIT.
In this toolkit, you will discover:
–  The EIGHT Keys to Mastering Investing & Creating Wealth
– What is the Best Investment Strategy for YOU Right Now
– Which Investment is Best for YOU
– How to Make Better Financial Decisions
DOWNLOAD it for FREE HERE:
https://daretochangelife.com/beginnerinvestortoolkit
And if you see people having amazing retirement and think to yourself "It will never be me…", then this TOOLKIT is a MUST for you!
Seriously… Don't wait weeks, months, years only to look back and regret that you allow the money situation get out of hand…
Haven't you already waited for too long?
"The magic you're looking for is in the work you're avoiding."
To your Health, Wealth and Freedom.

Millen Livis, M.S, M.B.A.
P.S. This is not the time to be wishy-washy about your money and financial future. 
If you want to start investing strategically, DOWNLOAD the FREE BEGINNER INVESTOR TOOLKIT now!
Until next time – be mindful, be discerning, be well!