Today I'm writing to you from a small village in the French Alps…. It's a healing facility that uses special thermal water sources to help people with various physical challenges (I'm dealing with some injuries after the car accident).
We're required to wear masks inside the facility and keep social distancing as much as possible…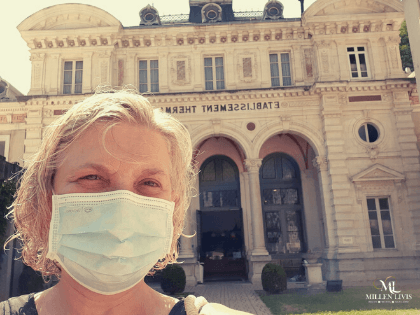 I don't know anyone here, so it's a great opportunity for me to meditate and contemplate on questions like:
How can we live in the present moment in this "New Now" instead of constant fear and worries about "What If"?
How can we stay healthy, joyful, and peaceful in the face of uncertainty and turmoil (from economic to health to political) that is happening all over the world right now?
Can we CHOOSE NOT TO PARTICIPATE in this external turmoil?
Can we CHOOSE TO LIVE IN THE PRESENT MOMENT instead of preparing emotionally for the worst-case scenario?
I'm talking about creating our life experiences from the external environment that we have very little control over versus creating our life from our inner intentions.
Because the former is a sure way to experience more fear and anxiety, which then leads to emotional and physical breakdowns…and leaves very little energy to create the life you want to experience.
Yes, our external environment is indeed essential because it influences our inner environment.
If you don't have a work environment (whether at your job or your business) that supports what you want to experience, you feel deflated and…stuck.
If you have a relationship that doesn't make you feel supported, loved, and appreciated, that doesn't spark joy in you – you feel frustrated and…stuck.
And if you work hard all the time and hardly have time for yourself, your partner and your friends and family – you feel exhausted and… stuck too.
I recall the time in my life when I felt stuck and was living in the F.O.G. of fear, obligations, and guilt.
I knew that I had to change my environments – my work, marriage, and financial habits- because I was just surviving, not living.
BUT…I was afraid to change.
"What if", "not yet" and "not now" way of thinking kept me stuck in the environments that felt like a desert.
YET my FEAR of uncertainty, fear of not being able to support myself if I leave my energy-draining 6-figure Wall Street job, fear of not being financially secure if I leave my 20+ years loveless marriage – ALL this mind noise kept me in a prison of my own making…for years.
And so, I was unconsciously recreating my life from the familiar external circumstances instead of my inner intentions.
Until one day…I DECIDED TO STOP TOLERATING and WORRYING.
Until one day… I started creating my life from my inner INTENTIONS.
And that's what I felt compelled to remind you today….
Yes, we live with a few constraints and uncertainties right now.
Have you chosen to react and tolerate OR plan for how to thrive in the "New Now"?
Do you have your INTENTIONS for your life clear in your mind?
If NOT, you will unconsciously recreate from your Past experiences…
So, why not CHOOSE to consciously create your life from your intentions instead of simply reacting to your current external environment?
Life is what YOU CHOOSE to make of it. And what you tolerate, you worry about.
Tell me what you're not willing to tolerate anymore AND what your intentions are for your life.
I really want to know.
To your Health, Wealth, and Freedom!

P.S. YOU don't have to depend on your government, your boss, or your partner for your financial security and well-being.
YOU can start creating Financial Independence and Personal Freedom in your life right now, in spite of gloom-and-doom around you.
I'm going to open a couple of spots for my PRIVATE coaching this year…
Let's talk privately about your current situation, your intentions, and goals, so together we could determine YOUR way to Financial Independence and your best next move.
Send me an email to Millen@DareToChangeLife.com with the Subject Line "I want Financial Independence" and we'll schedule a complimentary call.