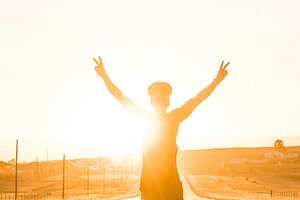 According to Wikipedia, approximately every 2,160 years we have a new astrological age, epoch.

And I've noticed a lot of references to the "Age of Aquarius" moment on December 21st, 2020, when apparently Jupiter and Saturn met for the first time in millennials, at 0° Aquarius.

The Jupiter-Saturn conjunction on December 21st, 2020 might have been  that final 'cosmic push' that will mark the official beginning of the "Age of Aquarius."
 
Why do I bring this up now?
 
Because this "Age of Aquarius" moment is a sign that we'll be leaving an old world behind and experience "a new normal."
 
I know what you might be thinking…. "We've experienced this "new normal" for almost one year already and I had enough of it!"
 
Well, apparently the things associated with Aquarius are concerned with the new ways of being and new ways of doing things that will affect every area of our lives.
 
And while the new epoch may be about some revolutionary changes, the real significance for each of us is going to be in how we respond to it. 

Will we be flexible and able to align our choices with possibilities or inflexible and anxious about the future? 

So, I invite you to PAUSE. 

Make time to REFLECT on your 2020.

Create a sacred space, get your journal and write down your most memorable 2020 moments….
 
Some of them might be painful…could be financial losses, broken relationships, health issues…  
Acknowledge your emotions associated with these memories…allow yourself to feel them…then consciously let them go…. 
 
Next, recall your "2020 WINs" – joyful experiences, new business opportunities, interesting connections, deep self-discoveries…. 
Anything that makes you feel excited, joyful, self-loving, and powerful.

Now…SET YOUR INTENTIONS for 2021!
 
Set your intentions for different areas of your life – health, relationships, career, finances…

For example, let's start with your finances.
 
What are your financial goals for 2021?  

What income do you want to receive monthly? 

What do you envision to be the sources of your income in 2021 and beyond?
 
What adjustments do you want to make in your cash flow?
 
Do you need to attain or upgrade some skills to accomplish these financial goals?
 
What specifically do you want to focus on in 2021 to make yourself more valuable, whether at work or in your business? 
 
Up level your marketing and sales skills? 
 
Improve your speaking/presentations skills?
 
Learn how to invest your money strategically so your money starts working for you?
 
Improve your time management skills?
 
Incorporate mindfulness practice in your schedule to feel more peaceful and calm?
 
Next, write down how it will make you FEEL once you accomplish your goals.
 
What will change in your life?  How will it affect your loved ones?  
 
You got an idea, right?
 
And if being financially independent is your top-of-mind thinking for 2021 and beyond…. 
If you're done procrastinating, waiting and worrying how you can create a life where you never have to worry about money again – let's connect in person (in my private Zoom room.)

Let me help you map out YOUR UNIQUE path to Financial Independence so you start your journey instead of just thinking about it.

CLICK HERE to schedule your "Never Worry About Money Again" consultation with me asap!

The value of this session is $497 but it's my GIFT to you for the next couple of weeks. However, I can only have 5 complimentary sessions per week, max. 

So, don't wait – get into action.

2021 is going to be great for those who don't wait!

It can be YOU!

As always, I am rooting for you.
With Love and Gratitude,
Millen Livis
P.S. Being financially independent is possible without winning a lottery or killing yourself at work! 
Take me up on this risk-free offer – schedule your "Never Worry About Money Again" consultation now.
Let me help you map out your unique fastest path to Financial Independence. ?