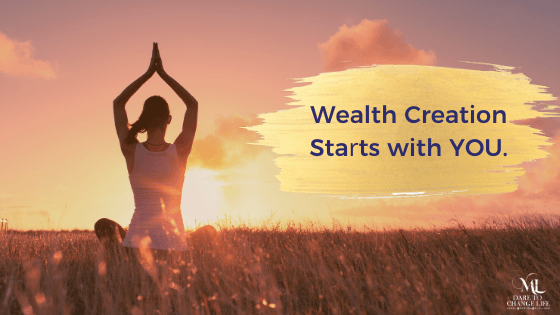 In the last week post, Benefits of Intentional Living, I promised to tell you how I started living intentionally and briefly shared with you the rough patch I went through a few years ago – the downward spiral that brought me to my knees and…opened my heart.
I never thought that something like that could happen to me.
Using the "societal metrics of a successful life", I was living an American dream – family, beautiful house in the suburbs of New York, prestigious high-paying job, friends, parties, vacations….
Yet deep down I was not happy – it felt like was dying inside. And there came a time when I could no longer pretend, so…I decided to dare and change my life.
Yeh, I jumped – walked out of my "prestigious comfortable job", my comfortable marriage, my beautiful and comfortable home, and…re-started my life all over again.
I recall feeling enthusiastic about my future again, especially after graduating from the "prestigious and well known" business school. I SO wanted to create lasting wealth, serve others, travel, and make a difference in the world.
Yet it didn't happen… for some time.
I got into a free-fall and my "parachute" didn't open for a while…
The promising business partnership fell apart; my new investment business was cash-poor and I had to let go of my team members; I struggled with paying bills and student loans; had serious health issues; and got depressed.
At that time I didn't know that the Wealth creation must start with me…
Wealth creation starts with YOU
I was SO focused on "external" achievements that I completely neglected the most important source of success in my life – myself and my well-being.
I felt stuck and unhappy…again.
And what I discovered was that I had to rethink how I perceive happiness.
I realized that I neglected my inner well-being.
I needed to change…again. But this time the change had to be from the inside out.
You must re-train your brain
I needed to re-train my brain.
And the best way to do that is to practice mindfulness.
So, I decided to practice intentional living by introducing a healthy daily routine. I've strived to live intentionally every day by being deliberate with my time, focus, and choices.
Let me share with you the daily routine that has helped me turn my life around and create an incredible life:
I start my morning by counting at least 5 things I'm grateful for –Gratitude is my anchor state.
Then I get up and drink some water (often with a slice of lemon) to get my body hydrated.
Next, I get to my meditation space. I meditate anywhere between 30 – 60 minutes (based on my schedule that day). I use different styles of meditation – silent, guided, or mantra. Meditation helps me get into a state of being where I feel more calm, peaceful and intentional with my thoughts and emotions.
Next, I head to my yoga room and practice yoga and/or Qigong.
During weekends, I like to read books, especially on metaphysics and mindfulness, and journal.
Only after these 5-6 steps, I nurture myself with nutritious food – make a green smoothie for breakfast (with kale, celery, cucumber, sunflower sprouts, lemon, banana and green apple).
After my nutritious breakfast, I go for a walk in nature.
I begin my morning with this simple routine – BEFORE I even start my to-do list for the day.
Out of all those 7 steps, meditation is one of the essentials. Being in the state of calm and silence, when the chatter/noise of the outer world is neither distracting nor guiding my focus, allows my brain to rest and recover.
Oh, and I also like to set an intention before my meditation… For example, one of my intentions is to feel in love with my life (no matter what challenges I may encounter.)
Sometimes it's hard to shut down my busy mind or switch attention from physical pain… In these situations, I just notice those thoughts, acknowledge them and gently get back to the flow.
Noticing what's happening in your mind or body without passing any judgment is often referred to as mindfulness.
You Can Do It, Too
Following a healthy (and supportive) morning routine will change how you feel about your day. It may not be easy, at first. You may forget, or skip some steps; you may choose to do none on some days.
What's super important is that you don't beat yourself up. Guilt is one of the most toxic emotions humans experience and I know first-hand how draining this emotion feels.
I invite you to forgive yourself, remind how many benefits you'll experience from having a healthy daily routine, and simply get yourself back into the flow.
By the way, you don't have to have all those 7 exact steps – I encourage you to come up with a daily routine that works for you and your life.
So, what daily routine are you going to implement in your life?
What ideas that I shared with you today resonated with you?
Share your intentions and ideas in our private Wealth Building for Powerful Women group.
To your Peace, Power, and Prosperity!

P.S. For my birthday, I chose to go to the meditation retreat hosted by the Buddhist monks. It has been a truly fascinating experience…I'll share more about it in my next emails or videos.
Have you downloaded yet my Checklist for Living Free? It's my gift to you and you can Download it HERE. EN-JOY!
Also, my team and I are cooking some VERY COOL experiences for you in the coming months….So, make sure you stay in touch!