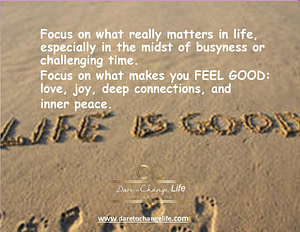 I am fortunate to live very close to the ocean and a small lake. As part of my daily self-care routine, I love taking walks on the beach or around the lake every morning.
These walks have become my walking meditation practice.
I like to pay attention to and appreciate simple things: birds having a tribe gathering, children playing in the sand, people jogging and walking, and seeing footprints get washed away by the rhythmic movements of the ocean waves.
During one of my walks, my mind zoomed in on the washed footprints on the sand, and I thought: That is a symbolic image of our lives.
We, too, leave a footprint as a proof of our existence on the physical plane. Then one day our "footprint" will be erased in an instant and we'll return back to our Divine Source.
Suddenly, the brevity of our existence struck my awareness.
I realized that all the worries and struggles, fears and pains, physical possessions, and material achievements that we identify with are not our identity but simply passing experiences along our journey.
Then what remains?
What is lasting?
Love, grace, kindness, and joyful memories you share with others are the legacy that you can leave behind one day.
If you are like me – ambitious and constantly driven by new and exciting ideas and projects – you are motivated by the desire to authentically serve others with your talents and skills.
In my case, this passion and drive helped me achieve freedom and independence, and I am infinitely grateful for my life.
Yet I often push myself and multitask to the point of exhaustion.
I get caught up in busyness, which is a self-created illusion, and overlook the real priorities.
In the instant that I was watching the footprints get washed away, however, I felt that I truly want to refocus on what really matters in life, especially in the midst of busyness.
I want to focus on what makes me feel good: love, joy, grace, deep connections, and inner peace. And from THAT place, I will create my training masterpieces and make a bigger impact in the world.
Today I want to share with you a fun exercise I like to do to plan an extraordinary year and invite you to try it too.
Create a list of
Your wins – all the successful outcomes or efforts, whether tangible or immaterial. This will help you focus on your successes and expand on them.
Your pains – habits, beliefs, people and experiences that I want to leave behind. Create this list, then burn it as a symbol of releasing this energy from your life.
Your lessons – feedback, experiences, people and beliefs that I want to expand and bring over to the next year. We tend to repeat the lessons that we haven't learned. Awareness of these lessons will help you get to desired goals faster.
Your goals – what do you want to FEEL and EXPERIENCE, CREATE, GIVE and RECEIVE. Clarity about your desires will help your subconscious to zoom in on your goals and manifest them.
Take some time for yourself and write your dreams into existence!
Have a magical New Year!
Until then… STAY IN YOUR POWER!

Millen
P.S. To start pre-paving your way to Wealth and Financial Freedom, make sure to download your FREE Wealth Planner HERE